The Salcantay trek, a hike open to everybody all year long, without spaces limitation and connecting the city of Cusco to the famous citadel of Machu Picchu.
We are the first virtual agency proposing a reliable, fast and secure system to book your trek on-line.
Before you discover this fabulous hike for yourself, we invite you to join us on a virtual tour within Peruvian Andes, on one of the most beautiful treks of the World... Now, take a breath, imagine and dream, you are almost in Machu Picchu... Welcome!

New! Without extra fees you will spend the first night in a luxury geodesic dome! (details)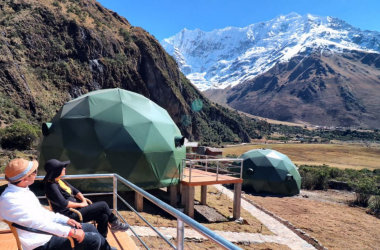 The Andes
A fabulous trek in the heart of the Peruvian Andes.
A natural path
Walking through natural landscapes in the heights of the Andes is an adventure.
Perpetual snow
Enjoy nature in the middle of the Andes.
1st night in a dome
You will spend the first night in a dome with all the comforts.
The Machu Picchu
At the end of the trek, discover and visit the fabulous Citadel of Machu Picchu.
An unforgettable experience
Share great moments with us.
The prize
Machu Picchu is waiting for you.

Secured on-line reservation
We accept credit cards

Full offer
We also offer the Inca Trail trek, the full tour and Machu Picchu entrance tickets.

Trust
Our company established in 2000 was the first to sell online tourist services in Peru.